The Central City Alliance
We're Working for YOU
It's May of 2021. Things are finally opening up as more people are vaccinated against Covid-19. Come out and support the great events happening in our community!
Contact Us
Make a Donation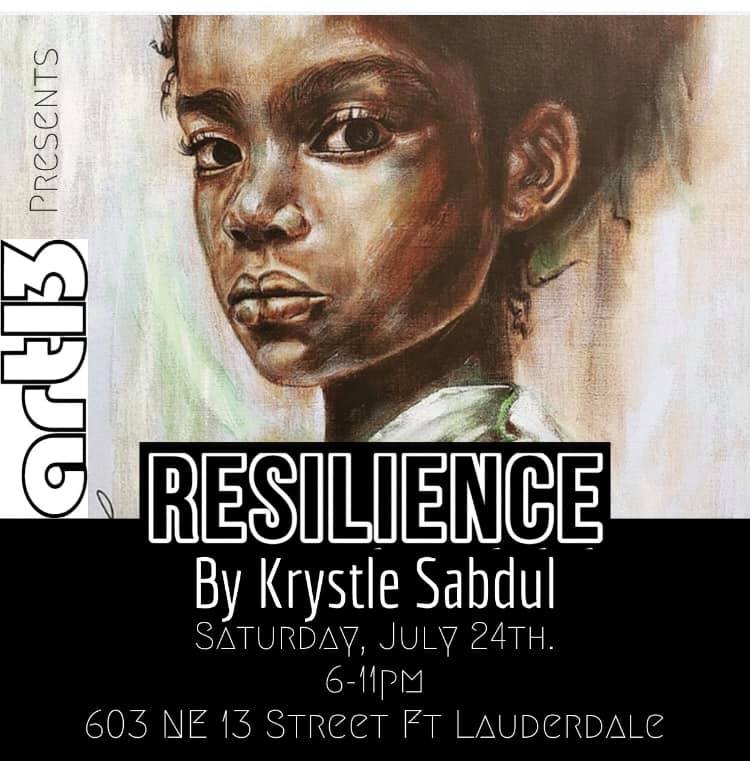 ART13 is hosting its 2021 Summer Glow art exhibit featuring 'RESILIENCE' by Krystle Sabdul. Saturday July 24th, 2021 6-11pm.This Solo Show will be on view at Gallery Warehouse 603 603 NE 13 Street Fort Lauderdale 33304 one night only.
Compelled to celebrate humanity, in a world that is becoming less sensitive, Krystle Sabdul explore the theme in her paintings, using her work as a positive platform in communicating human emotion and personality – highlighting our similarities rather than our differences. With no real formal training,Krystle has learned to rely on the skill of listening to and trusting her inner voice to guide her visual expressions. Her color choices exude vibrance – a true reflection of her culture- and communicates the emotion and the inner strength of the subjects she paints. The body of her artwork, to this point, captures the candid nature of women and children, conveying messages of optimism, positivity, and hope. She places an emphasis on the intensity in the subjects' eyes, making them a focal point, creating a bond between viewer and subject by evoking feelings of familiarity and endearment. If she can elicit a feeling of familiarity, togetherness or warmth, then she has done justice to the piece.
The art show ' Resilience' will take place in conjunction with Urban Jungle Marketplace. There will be vendors, food, drinks, music, promising a good time.
All of the artwork will be for sale. A percentage of the sale will benefit our non profit organization South Florida Lending Hands.
South Florida Lending Hands is a 501 c(3) non profit organization that embodies the Arts, Animal Welfare, Disaster Relief and Community Outreach.
Support the arts ands your community. Free Admission – Donations encouraged – https://www.eventbrite.com/e/resilience-tickets-163101822943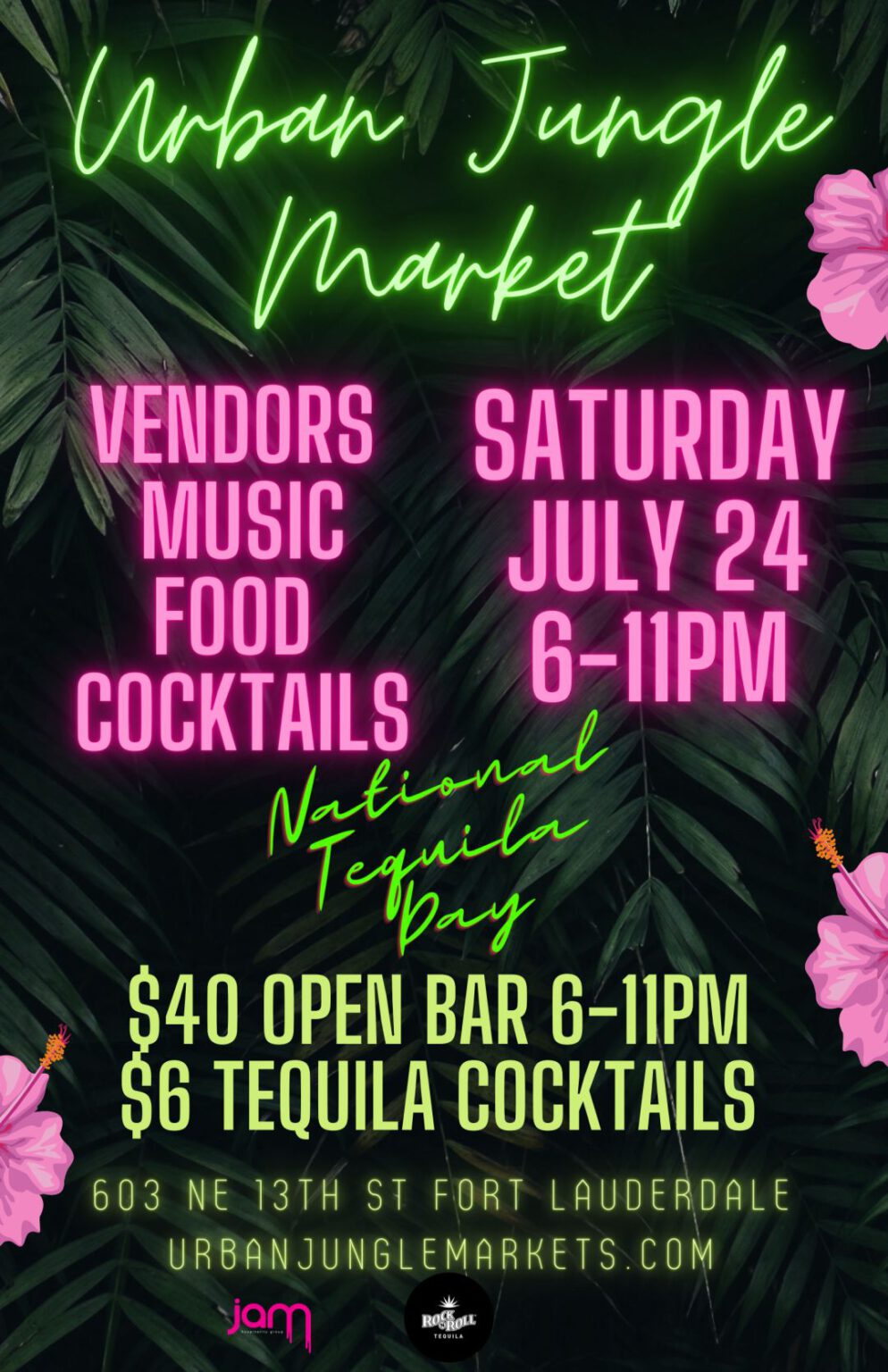 Don't miss the fun on National Tequila Day – Saturday, July 24, 2021  – at the Urban Jungle Market.
Just $6 for Tequila Cocktails, or $40 for the Open Bar
See more at urbanjunglemarkets.com
2021 is in full swing, but we love to look back to pre-COVID 2020. Our signature event, The 13th Street Craft Beer and Wine Festival with Car Show on March 7, was one of the last public events of the year before Covid hit. The festival was a community and financial success. We could not have done it without our volunteers and the participation of so many local businesses.
Below is a video celebrating that event.
As things open up in 2021 we continue to be busy.
One big change is that we postponed our biggest event, the 13th Street Craft Beer and Wine Festival with Car Show. We're considering an October date for this year. This also gives us an opportunity to apply for additional non-profit funding. Stay tuned for how you can be involved in this event.
There are some new mixed-use projects planned for the neighborhood, as well as exciting new businesses and events, and we hope to showcase them to our membership throughout the year. Please keep checking this website and our Facebook page.
If you have not joined the Central City Alliance for 2021, please show your support by doing so right away!
Here is a list of actions taken in 2020 by your Central City Alliance board and its members:
Became a 5013C non-profit.
Received a $20,000 non-profit grant from the Central City CRA.
Received sponsorships for our annual festival
13 th Street Craft Beer and Wine Festival
Awarded "Marge Anderson Award " to Katharine Barry
Disseminated COVID 19 information on our website and social media
Served on the Mayor's COVID task force
Partnered with HOMES Inc for Cares Act Food distribution, with funding from Community Foundation of Broward
Partnered with HOMES Inc for "Chalk the Talk" – messages of Unity
Hosted Art 13 – "Coming Out of the Dark"
Hosted "13 on 13" – open air market
Volunteered at Bridge 2 Life Educational event celebrating Black History Month
Joined the Fort Lauderdale Council of Civic Associations
Incorporated local police briefings in our in person meetings
Hosted Ice Cream Social
Pivoted to Virtual meetings, so that membership could stay connected
Increased membership in the Central City Alliance
Established regular communication with the Central City CRA staff
Advocated for the for EBIP (emergency COVID funding) forgivable loans
Advocated for City to plant trees in the medians
Worked to eradicate graffiti on local commercial buildings
Implemented the Community Garden restoration project at HOMES Inc.
Decorated the Unity Circle with Holiday decorations
Received $500 donation from District 2 Commissioner Steve Glassman
Hosted Art 13 – "And That Was 2020" projection exhibit
Hosted Holiday Social – Sponsored by Luxxso Auto